5 Easy Steps to Invisalign
Step 1:
Make an appointment for a consultation to evaluate, assess and discuss the course of your treatment. The dentist will take impressions of your teeth and send these to Invisalign® for processing.
Step 2:
Invisalign® then makes your aligners to the dentist's specifications. Advanced 3-D computer imaging technology is used to transform your bite impressions into a custom-made series of clear and removable aligners.
Step 3:
You receive your clear aligners in a few weeks. During your next visit to the dentist, you will receive your first set of aligners. The dentist will most likely give you a few additional sets to wear before your next visit.
Step 4:
You'll wear each set of aligners day and night for about 2 weeks, removing them only to eat, drink, brush, and floss. Guests complete treatment in approximately a year. You'll visit the dentist at regular intervals to check your progress.
Step 5:
When you're finished wearing each aligner in the series, your treatment will be complete and you will have straighter teeth and the beautiful smile you deserve.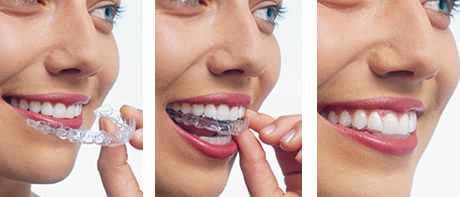 Want to know more?
To get a no-obligation assessment to find out if Invisalign is right for you, please make a booking request today.